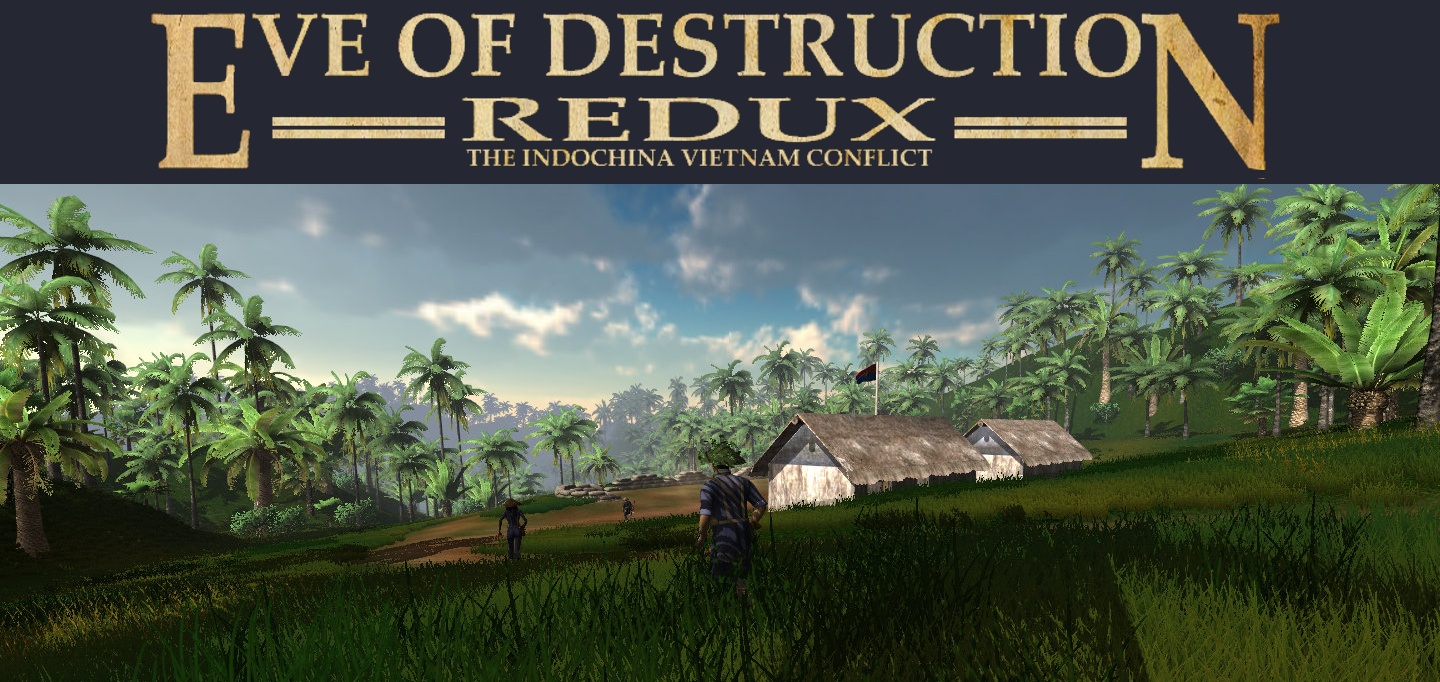 Eve of Destruction - Redux VIETNAM
A downloadable game for Windows, macOS, and Linux
Eve of Destruction - Redux VIETNAM
is a First-Person-Shooter for PC about the Vietnam War era.
Exaggerated depiction of violence has been deliberately omitted.
Landscapes, characters and their names are fictional.
The game is constantly evolving.
Features
8 languages in game:
German, English, French, Italian, Spanish, Russian, Chinese and Vietnamese.

62 maps with different landscapes:
with dense jungle, huge ricefields, urban villages and cities
with day & nightmode and nightvision if needed

201 different usable vehicles:
tanks, helicopters, jets, bombers, APC's, cars, bikes & bicycles,
trucks, boats, ships, stationary weapons, hovercraft and usable animals

68 different handweapons:
pistols, rifles, grenade launchers, MG, MP, knifes, grenades, antitank, Molotov Cocktail, flamethrower, smokegrandes & flares, mines, traps, flashlight and much more

Singleplayer with 13 different modes:
Anti Air, Arcade, Combat, Tankbattle, Dogfight, Sniper, Doorgunner, Naval Combat, Racing, Traffic Survival, Soccer, Basejump, Zombie

Multiplayer for 2- 128 players
and with 5 different modes:
Conquest, Search & Destroy, Hillfight, Teamdeathmatch, Deathmatch
Multiplayer fast and easy
Multiplayer via Photon cloud so everyone can create MP-rooms fast and easy (no servers required, just an internet connection).

There are bots in Multiplayer to shorten wait-time for other players. The admin who created the room can kick the bots for each team and play co-op with friends against the bots in other team. Or play completely without bots.
Free MOD
Eve of Destruction - Redux PIRATES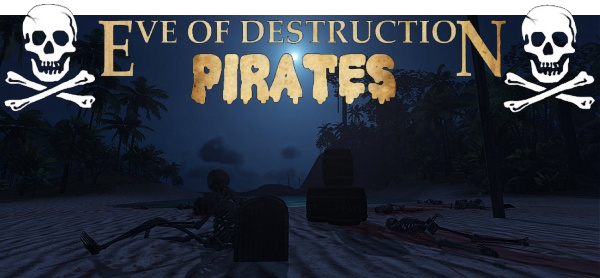 Pirates is a free modification for Eve of Destruction - Redux, which was inspired by the Battlefield modification 'Pirates'.
Everything currently in the Pirates mod for Eve of Destruction is obtained either from freely available assets, was purchased online or was self-made.
Pirates offers a wide variety of different ships and boats that with a wide range of naval combat options. The ship's cannons vary greatly on firepower and it takes a lot of practice to be able to hit targets accurately.
Fight in huge sea battles against enemy ships or on land against bots with swords, pistols, axes and muskets.
You can even take a ride in a balloon to get behind enemy lines.
The game is currently available for Singleplayer only. Multiplayer may be added if there is enough interest.
The MOD comes with the main game Eve of Destruction - Redux VIETNAM and gets updated automatically.

Independent
The game is a 100% indie project by just one person.
Support and suggestions

Don't hesitate to contact me if you've got suggestions, any questions or just need support.
My nick: Lotte|EoD

Information about license key
Once you purchase the game you automatically get a license key. You can enter it by typing or just copy the key with STRG+C and paste it in game with STRG+V. The key just has to be entered once on first game start!
Information about installation
Unpacking
Windows:
just doubleclick the installer file and follow the instructions.
Linux & Mac:
the files come ZIP compressed to save a lot of space and download time. You may uncompress the files with a right-click / extract to...
But you can also use Unpackers like WinRAR, WinZIP, 7ZIP and many others.

32Bit / 64Bit
Linux and Mac version of the game come with both: 32 and 64 Bit executables. If you download the Windows version of the game, you can select from 32 or 64 Bit version!
You can see what Operating System is installed on your machine if you right click on 'Computer/Properties' on the desktop!
Other games by Agger Interactive
| | |
| --- | --- |
| Status | Released |
| Platforms | Windows, macOS, Linux |
| Rating | |
| Author | Agger Interactive |
| Genre | Shooter, Action, Fighting |
| Tags | coop, First-Person, FPS, Multiplayer, Singleplayer, vietcong, vietnam-war |
| Average session | Days or more |
| Languages | German, English, Spanish; Castilian, French, Italian, Russian, Vietnamese |
| Inputs | Keyboard, Mouse |
| Multiplayer | Ad-hoc networked multiplayer |
| Links | Steam, Support |
Purchase
In order to download this game you must purchase it at or above the minimum price of $9.99 USD. You will get access to the following files:
Eve of Destruction-Full-Mac32-64
1 GB
Eve of Destruction-Full-Linux32-64
1 GB
Eve of Destruction-Full-Win32-Setup
1 GB
Eve of Destruction-Full-Win64-Setup
1 GB