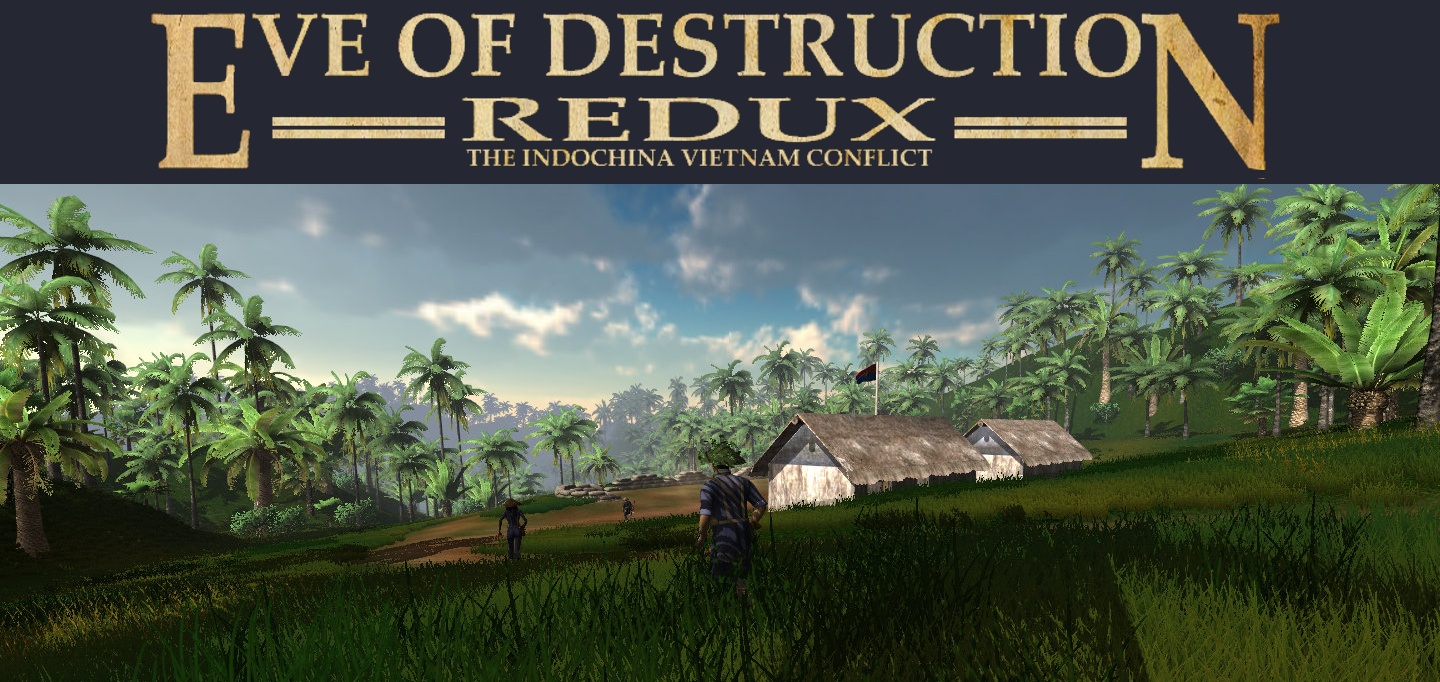 Eve of Destruction - Redux VIETNAM
Eve of Destruction - Redux VIETNAM v4.1 released
---
World Cup 2018
In time for the start of the football/soccer World Cup 2018 in Russia, the update for Eve of Destruction (EoD) has been completed.
On this occasion I brought a simple football game into EoD.
You can find the football area in the new map 'Cao Lanh' (Game Category: Fun).
The rules of the game are simple:
You play until a team (USA/Vietnam) has reached 10 goals!
If the ball leaves the playing field, a new ball is spawned at the center point.
To shoot, you just need to go to the ball.
The kicking is automatic and the shot strength depends on the running speed.
The shot goes in the direction of sight, which means you can definitely hit the target!
Does not expect any strategically playing bots, they are only amateurs, so a stud counter team :)
Update to v4.1 - completely new AI
The code for the infantry bots was completely rewritten because the old AI left much to be desired.
In short, the new AI code is only 20% of the old code, but has much more features. The bots and the performance have become noticeably better!
Update to v4.1 - new: AC-119 Gunship
As a gunner in an AC-119 you can set a lot of fire in the map 'The Ricepaddies'.
New Map: Saigon Suburbia
This map also comes with a new game mode: Traffic survival :)
Anyone who has ever seen pictures of traffic in Saigon or Hanoi knows what is going on in the streets.
Of course, the map can also be played in normal combat mode.

New Map: Welcome to the jungle
As announced in the latest news, this is probably the most detailed map for EoD ever built.
It is playable in both day- and night-mode.

New Map: Green Hell
Green Hell already existed in old versions of EoD, but this is a completely new map with some surprises in the undergrowth!

New Map: My Lai (Singleplayer only)
The My Lai massacre is a hard topic and was the beginning of the end of the Vietnam War.
Of course this topic is not to be missed in EoD, but the story here is changed somewhat: As a gunner in a helicopter you should stop the massacre! (Wich is what nearly happened this day!)

New Map: Cao Lanh (Singleplayer only / Category: Fun)
The above mentioned soccer map.
Just the right thing for the game breaks during the World Cup, it's really fun!

Update to v4.1 - Changelog

CHANGELOG
GENERAL
 - new game type: SOCCER (map Cao Lanh)
 - added loadscreens for each map
 - improved weapon flashlights
 - new NVA soldier model
 - new VC monk soldier model
 - new aircraft LI-2
 - new jungle hut 3D models
SINGLEPLAYER
 - added map filters
 - new healthbar shows the health status
 - new doorgunner game with C-119 gunship (in map The Ricepaddies)
AI
 - completely new AI code for infantry bots
 - added new animations
MAPS
 - new map: Cao Lanh (SOCCER, SP only)
 - new map: Green Hell
 - new map: My Lai
 - new map: Saigon Suburbia
 - new map: Welcome to the jungle

Files
Eve of Destruction-v4_1-Win32-Setup.exe
1 GB
Jun 14, 2018
Eve of Destruction-v4_1-Win64-Setup.exe
1 GB
Jun 14, 2018
Eve of Destruction-v4_1-Linux32-64.zip
1 GB
Jun 14, 2018
Eve of Destruction-v4_1-MacOSX32-64.zip
1 GB
Jun 14, 2018
Eve of Destruction-Demo-Win32-Setup.exe
552 MB
Jun 14, 2018
Eve of Destruction-Demo-Win64-Setup.exe
553 MB
Jun 14, 2018
Eve of Destruction-Demo-Linux.zip
681 MB
Jun 14, 2018
Eve of Destruction-Demo-MAC.zip
680 MB
Jun 14, 2018
Get Eve of Destruction - Redux VIETNAM